Computer Defender 2009
Overall Risk Level:
Computer Defender 2009 may look like a program that is useful for computer but in reality this deceptive methods were mainly used by rogue security program authors to mislead computer users and purchase the program. Computer Defender 2009 can do nothing but to perform its trick, that is to make user believe that the computer is infected. This was done with an excessive display of warning messages and popup alerts. Computer Defender 2009 will also perform virus scan that will produce a fake results.

Alias: -
Damage Level: Low
Systems Affected: Windows
Screenshot Image of Computer Defender 2009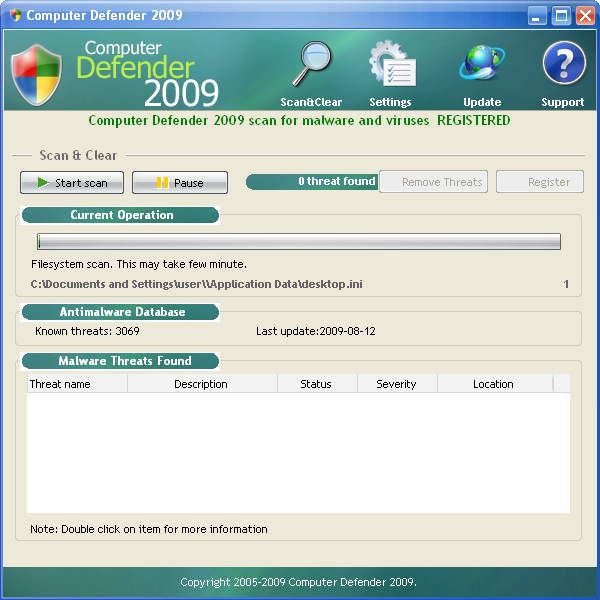 Removing "Computer Defender 2009″ with MalwareBytes AntiMalware
1. Download Malwarebytes' Anti-Malware(mbam-setup.exe) and save it on your Desktop.
2. After downloading, double-click on mbam-setup.exe to install the application.
3. Follow the prompts and install as "default" only
4. Before the installation completes, check on the following prompts:
- Update Malwarebytes' Anti-Malware
- Launch Malwarebytes' Anti-Malware
5. Click "Finish." Program will run automatically and you will be prompt to update the program before doing a scan. Please update.
6. Scan your computer thoroughly.
7. When scanning is finished click on the "Show Results"
8. Make sure that all detected threats are marked, click on Remove Selected.
9. Restart your computer.
Note: Computer Defender 2009 may prevent mbam-setup.exe from downloading and running. You can download and rename this program from a different computer before running it on infected system.

For Further Reading,