Spyware XP Guard Fake Program
Overall Risk Level:
Spyware XP Guard is a new bogus anti-spyware application which was already included in the long list of scam computer software that was being promoted over the internet. Spyware XP Guard makes it sure that it can sneak into computers with the help of scary and misleading pop-up alerts identifying a threat found on computer. Furthermore, Spyware XP Guard will run a scan on computer and will display exaggerated scan results hoping to convince computer users to purchase the registered version of the program.

Alias: -
Damage Level: Low
Systems Affected: Windows
Screenshot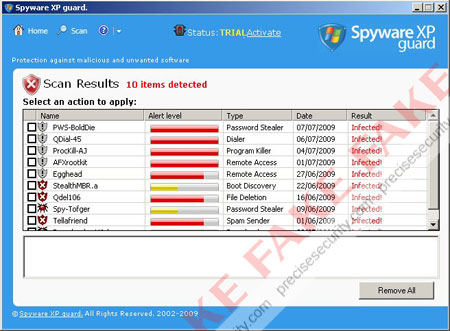 How to remove Spyware XP Guard
Please follow carefully these procedure for Spyware XP Guard removal.
1. Download and install SuperAntiSpyware
2. After installation, update it.
3. Reboot your computer in SafeMode
- During bootup press F8 on keyboard until selections appears
- Select "SafeMode"
4. Click SUPERAntiSpyware icon to start
5. On the Main Menu, click Scan your Computer…
6. Scan Location. Select c:\Fixed Drive
7. On right side of the window, select Perform Complete Scan, then click Next
8. Scanning will take some time.
9. When scanning is done it will display Scan Summary
10. On scanning Window, items detected are marked check
11. Click Next to remove infected items.
12. It will prompt you to reboot your computer. Click Yes to reboot.
13. After reboot, on the Main Menu click "Manage Quarantine"
14. Click the items that were quarantined and click Remove.
15. Close the Window to exit SuperAntiSpyware.
Note: Spyware XP Guard may prevent SAS from downloading and running. You can download and rename this program from a different computer before running it on infected system

For Further Reading,